Wedding Dress Quilts
What is a Wedding Dress Quilt?
That is Where We Take Your Wedding Dress and Make a Quilt.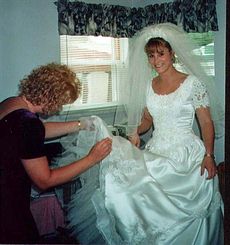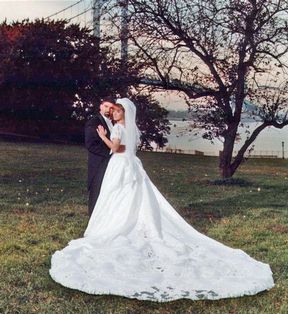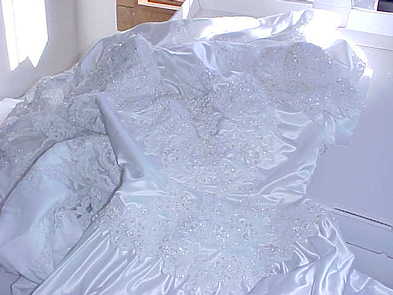 Dearest Cindy, Tears were brought to my eyes when I opened that box and saw the work you had done.!!! Oh My!!! Fedex arrived and when I saw my wedding dress box, I got all excited like a child at Christmas time. The Quilt is absolutly GORGEOUS!!!! It is magnificent, more awesome then I had ever imagined !!!! The pillow and the bag are gorgeous. Thank you so much, I can not express my pure joy that I feel about your work. It is so amazing. can not wait to display it in my room. This means so much to me, you have no idea. Thank you for giving me some pieces of my dress as well. Really, thank you so much Cindy....I really, really am glad that I discovered you and you were willing to do this project for me. THANK YOU THANK YOU THANK YOU THANK YOU!!!! Your Friend, Lynne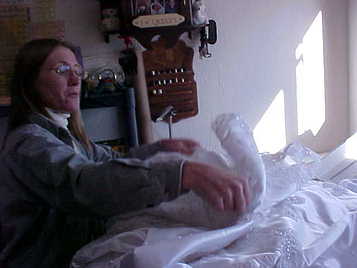 Below Are Some Close Up Shots of this Wedding Dress Quilt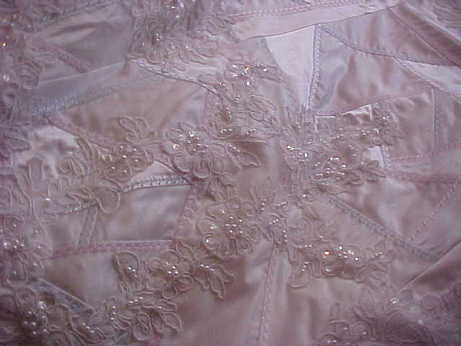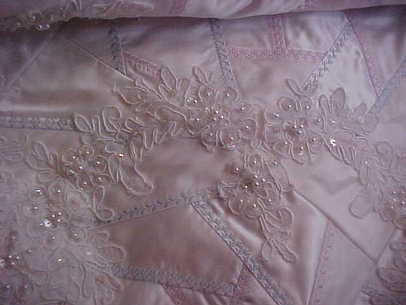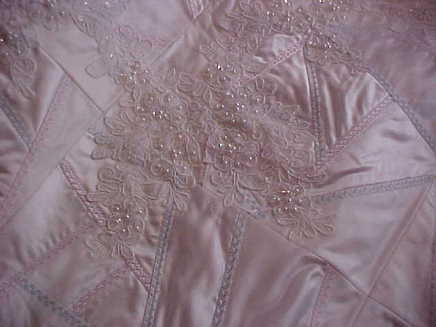 This Quilt is Made in the Crazy Quilt Pattern with Decorative Machine Stitching Then the Lace was Laid on Top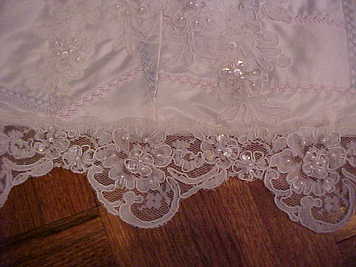 Just Could Not Get a Good Pic of this Beautiful Wedding Dress Quilt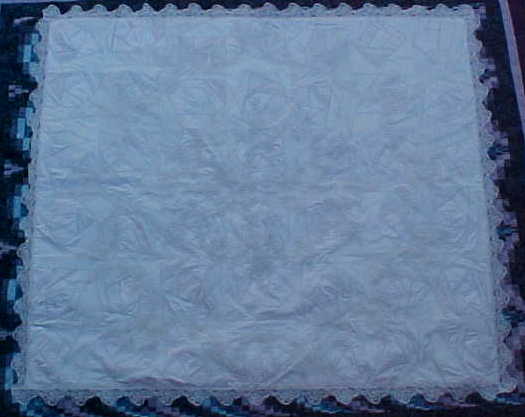 *********************
Before I can give you a price I need to know what size the dress is and if possible a picture of you in the dress
International?
Yes We Will Ship International To Confirmed or Verified PayPal Accounts ONLY! In US FUNDS Only!
If You Are An International Buyer PLEASE ASK FIRST, We Will Need Your Shipping Address to Figure "The Shipping Rate"! Please Send Us Your Address, We Will Send You A Special "Buy This Item Now" Link To Use PayPal From, Please Use This Email Link International Buyer