T-Shirt Quilts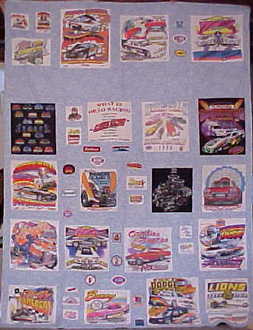 These T-Shirt Quilts are Made from Your Old or New T-Shirts. T-Shirt Quilts can be a Small Wall Hanging, a Lap Throw or as Big as a King Size Bed Quilt.

The Time it Take to Make a Quilt Like this will Depend on the Size of the Quilt and How Many T-Shirts we are Going to Use.
International?
Yes We Will Ship International To Confirmed or Verified PayPal Accounts ONLY! In US FUNDS Only!
If You Are An International Buyer PLEASE ASK FIRST, We Will Need Your Shipping Address to Figure "The Shipping Rate"! Please Send Us Your Address, We Will Send You A Special "Buy This Item Now" Link To Use PayPal From, Please Use This Email Link International Buyer
****