House FOR RENT
NOT For Rent at this Time.
2 Miles South of Breen On The River, Half Mile off the Hwy.
Just 15 minutes from Durango and 30 Minutes to Farmington.
Click Here To View a Map of Where This Rental is Located.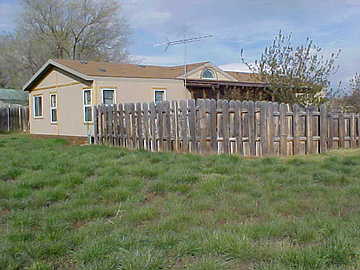 This 1530 sq ft 2BdRm 2B with Master Suite, has a lot of open space with the very Lg Kitchen and Dining Room, Living Room & Family Room, has an Office/Study, Laundry Room and a small one car attached Garage and Lg Covered Red Wood Deck, Fenced yard front and back, has lawn and flower beds in the front and 360* Views and lots of wild life. It is Very Clean Inside and Out, it's empty, does have a fridge and dishwasher, has gas cooking and forced air heat, includes trash pick up and it was just painted inside in November. It's Really Nice and there is Nothing Wrong.
- Here is Some of the Fine Print - Plain and Simple -
We are looking for Someone or Some-two or a Couple for this rental that likes the Peace and Quiet away from town. Looking for Non-smokers Only. We can talk about a dog. We will want to meet the whole family, that means you and the dog. We Will Need References, Rental History and Application.

First, Last and Damage/Cleaning Deposit of $850 will be Required to Move-In.

This Rental is on 40ac 20 minutes SW of Durango Colo, there are 2 houses here along with 30+ acres of fenced field, 5 acres of grass land on the river in the cottonwoods with about 800 feet of La Plata River and has easy access to State Hwy 140.


Below is a view of both places from the West.

Just Some of the Views You Will Have Out Here

If this sounds good to you or you know some one that might fit in good, then give us a call to set up a Viewing and Interview:

970-749-5482 ** Between 9AM and 5PM ** Please!

. .
Copyright © 1998 - 2020 Photographs are the copyrighted property of Quilts By Cindy.