All of the Quilts on this Page Have Been Ordered, Made and SOLD Over The Years.
These are Images of The Custom Baby Photo Quilts,
The Custom Baby Quilts,
T-Shirt Quilts, Memory Photo Quilts, and
A Wedding Photo Quilt, From The Wedding and
The King Size Crazy Cat Quilt, Made for the GrandSon
and a Very Special Custom King Size Butterfly Quilt, for her father.
Then There Is The 2 Year Project With
The Bonnet Girls on the Quilts,
The Double Wedding and Wedding Ring Quilts,

Stained Glass Quilt, and The Baby Afhgan
All Of Which Were Handmade Right Here In Our Home.
---
Quilted Chair Cushions.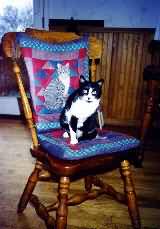 .......Now you see her. Now you don't!........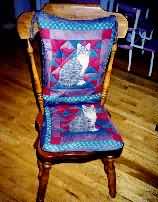 Here is our Sylvester Kitty ready to get comfortable on the Quilted Cat Cushion on our dining room chair. These can be done in sets of four or six, either matching or a mixed set. Need just one? Thats o.k. too!!
***
If you have a Pattern you want to use, I'll make the Quilt for you!
You Can Buy Patterns Like These or Any Other Pattern You Like and We Will Make the Quilt of Your Dreams For You!
Stairway To Cat Heaven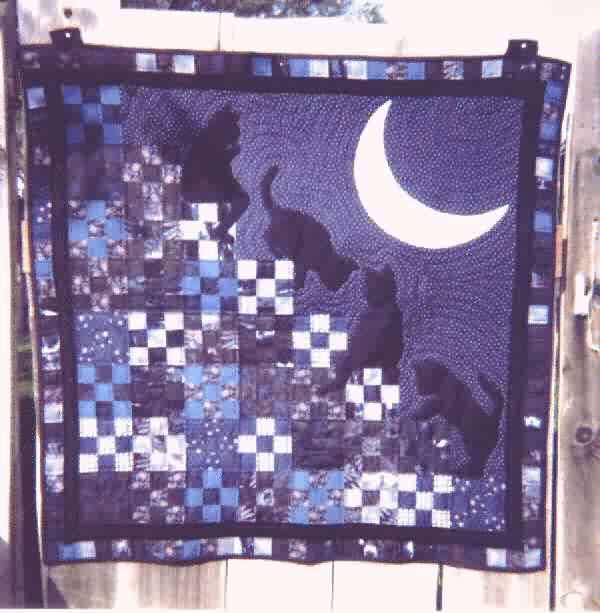 Finished Quilt Size ... 56 1/2" x 56 1/2"
This Quilt was a Special Order that I made. The quilt was designed by Barbara Dubovsky and was featured in McCall's Quilting 1997.
We Accept All Major Credit Card Payments Through PayPal.
---
View Some More Quilts
*
All Quilt Pages Have

The PayPal Button
*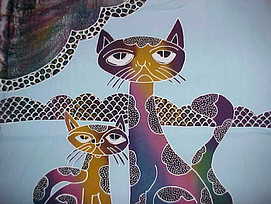 Batik Cat Panel Quilts For Sale