Personalized Photo Memory Quilts
Baby Photos, Wedding Photos, Pictures From Your Family Collection, All Can Be Made Into Memory Photo Quilts or Picture Memory Quilts - All with the Photos and Pictures Quilted Right into the Quilt, We can do Photo Picture Quilts with 3x4, 5x7 and 8x10 images from any event you want.

Great Gift Ideas are Baby Photo Quilts, Wedding Memory Quilts to Thank You GrandMa Quilts, or may be a Family Reunion Quilt, Got An Idea?. These Quilts can be made in any size you like from Baby Quilt to Crib Quilts to Wall Hangings, Quilted Lap Throws or King Size Quilts. Someone Far from Home, a Photo Memory Quilt is a Great Gift.

To Have Photos Quilted into Your Quilt the Cost is $14.00 for One 8x10 or Two 5x7 or Four 3x4 Pictures. So, The Price Will Depend on How Many Photos You Want to Use in the Quilt and How Large You Want the Quilt.

Original photos or pictures need to be sent to us in a protective envelope through the mail so we can scan them, remember the picture on the quilt will only be as good as the picture you send us, we will then return them with the Photo Quilt.

The above Baby Picture Quilt has 9 Photos
The Above Wedding Memory Photo Picture Quilt is a King Size with 19 Photos.

Below is a Simple Photo Memory Quilt with Just 5 Photos

*
International?
Yes We Will Ship International To Confirmed or Verified PayPal Accounts ONLY! In US FUNDS Only!
If You Are An International Buyer PLEASE ASK FIRST, We Will Need Your Shipping Address to Figure "The Shipping Rate"! Please Send Us Your Address, We Will Send You A Special "Buy This Item Now" Link To Use PayPal From, Please Use This Email Link International Buyer
We Accept All Major Credit Card Payments Through PayPal.
---
Custom Photo Quilts
*
All Quilt Pages Have

The PayPal Button
*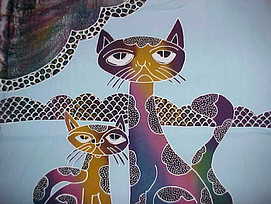 Batik Cat Panel Quilts For Sale