Personalized Baby Name Quilts
We can add a Baby's Name, Birth Date and Place with Weight and Time to any of the Baby Quilts or Wall Hangings we have on our for sale page for a small fee. The fee would depend on the size we make the letters and how many letters we add to the quilt. Quilts must be paid for in full. Email us to see what the fee would be for the Name and Date and Weight if you want all the stats.
If you buy one of the Baby Quilts we have for sale and want to add just a name to the quilt that can be done very quickly, they are machine stitched, let us know the name to add.

If there is enough time to do a custom quilt we can produce a baby quilt with the baby's name pieced right into the quilt.
Custom Quilts Like This Can Take Up To Two Months or More

*
International?
Yes We Will Ship International To Confirmed or Verified PayPal Accounts ONLY! In US FUNDS Only!
If You Are An International Buyer PLEASE ASK FIRST, We Will Need Your Shipping Address to Figure "The Shipping Rate"! Please Send Us Your Address, We Will Send You A Special "Buy This Item Now" Link To Use PayPal From, Please Use This Email Link International Buyer
We Accept All Major Credit Card Payments Through PayPal.
---
Personalized Baby Quilts
*
All Quilt Pages Have

The PayPal Button
*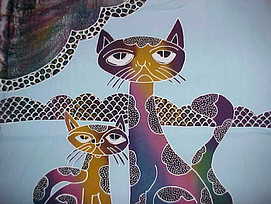 Batik Cat Panel Quilts For Sale